Balkanaizer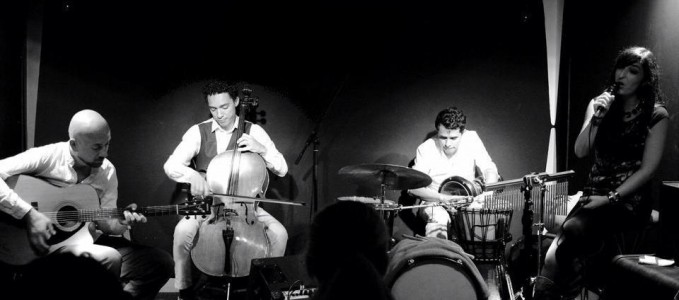 BALKANAIZER
Balkanaizer is an international group that presents instrumental and vocal music of Macedonia. The band offers original arrangements of traditional songs touching different styles of music
Album: "Macedonian Songs" 2016
Ivan Ilic – guitar
Milica Jovicic – voice
Martin Melendez – cello
Yehosua Escobedo – percussion
Milica Jovičić – voice
Born in 1985. in Belgrade, Serbia.
In 2013. Milica Jovičić received her Master's degree at the University of Arts/Faculty of Music in  Belgrade, graduating voice with Prof. Violeta Pančetović – Radaković.
She is currently a student of Spanish music on the prestigious Conservatori Liceu in Barcelona, with the
professor Carmen Bustamante. She had numerous public appearances as a soloist, at the National Theater in Belgrade, Concert Hall of the National University Ilija M.Kolarac, Museum of Opera Belgrade.
Ivan Ilić – guitar
Born in Belgrade, Serbia in 1979.
He was the leader of the Solid band, which won the prize on the International jazz festival Sabac, as the best young jazz band in 2002 in Yugoslavia. He finished studies in jazz and modern music at the conservatory of Liceu, Barcelona 2006. He participated in the Diversons tour and project Balkan music in a suitcase, by Obra Social La Caixa.He recorded several albums as a sideman and 4 albums as a leader (Dirty shoes and high heels 2006, Platonic 2011, Paranioc 2013 and Macedonian songs 2016).
Martin Melendez – cello
Cuban cellist born in Moscow in 1982.
He studied classical cello at the conservatory Amadeo Roldan and the ISA in Havana, Cuba.
He has collaborated on recordings with: Pablo Milanes, Pavel Urquiza, Lucecita Benitez, Yusa, Haydee Milanes, David Torrens, Chano Dominguez, Reynald Colom. among others. Currently lives in Barcelona and member of  aupaQuartet, TRAZAquartet is, Cordas del Mon, Gani Mirzo Band, Flamenco Hoy by Carlos Saura, Opera and Flamenco.
Yehosua Escobedo – percission
born in Morelia, Michoacan, Mexico.
Began studying classical percussion at the Conservatorio de las Rosas.
He completed his higher studies specializing in percussion in jazz and modern music at Escola Superior de Música de Catalunya. He had the privilege of sharing the stage with musicians such as Perico Sambeat, Tim Garland, Roberto Vizcaino, Pedros Estevan.